CHRISTMAS AND INNUNDATION IN OAXACA

Well, it made me wonder why everyone we knew was going out of town for the holidays. No longer. The innundation of Oaxaca by tourists is now complete, and the tide has receded somewhat. On Macedonia Alcala (one of the primary streets from the north to the zocalo) you were ten times more likely to hear English than Spanish. The very poor know this too and you see many more people from outlying areas coming in to beg or play their accordians or sell rebozos or drawings.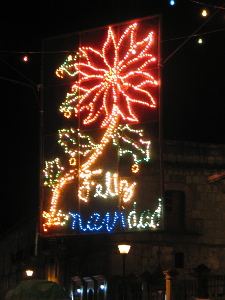 Thankfully our good friend Nilofour King came to stay with us. She played piano for Christmas carolling. The level of cooking knowledge in the house rose a number of degrees. Nilofour made both ponche and rompope, two great seasonal drinks--ponche, a wonderful fragrant spiced cider and rompope, a deadly addictive egg nog relative.

Nilofour was able to go to the Noche de los Rabanos for the first time--she's been waiting for 30 years. Night of the Radishes comes each December 23rd and is a celebration specific to Oaxaca. People harvest old, gangly radishes and carve some amazing things with them. Nilofour was not disappointed. The lines were 1.5 hours long to get into the Zocalo.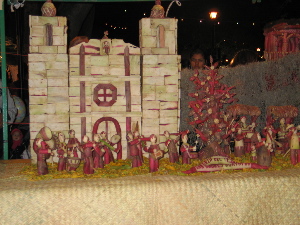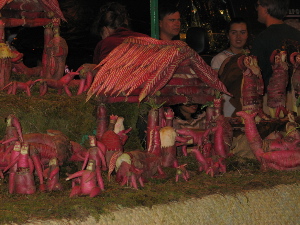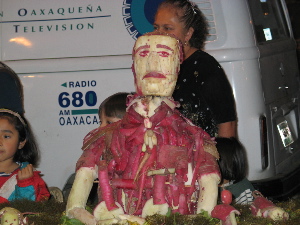 Muriel and Leland were asked to be a part of a local posada, celebrating the passage of Mary and Joseph to Bethlehem and trying to locate a place to stay.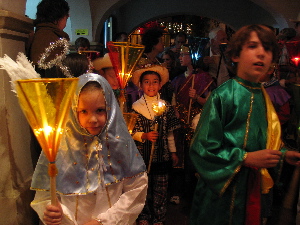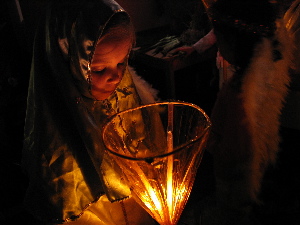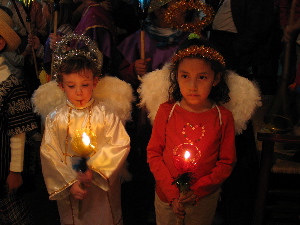 Muriel was Mary. Leland, well, Leland was playing the part of an angel. The posada came to our door, visited our creche/nativity scene, milled about and went on to where the party was happening. The last stop is, of course, the inn that has the room (in the manger). Pinatas, ponche (not as good as Nilofour's!), and tamales. Nerve-wracking to walk down Oaxacan streets with kids. The vehicles seemed forgiving, if just for the passage of the pilgrims. Candle-powered lamps bursting into flame if held at the wrong angle. Just clean fun.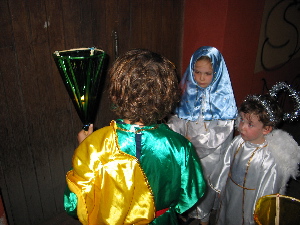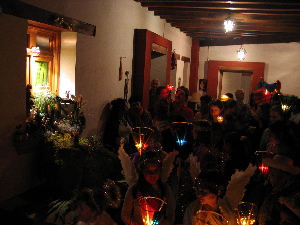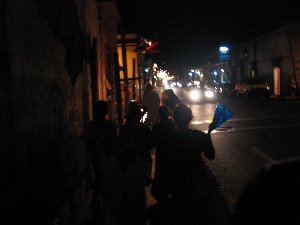 On Christmas Eve, four new additions to the home as Nilofour returned to the states. Lynne (Tracy's sister/Alta's daughter), her girlfriend Susie, and their two dogs What What and Alice B. Poodle. And a boatload of packages from the North Pole.