We're just about at our first 3 month mark. Amazing to think of that. It has that strange sensation of not being that long, and simultaneously being much longer than that. Daily life here is still foreign, though there is a familiarity that comes with time and repetition. I am still enamored with the day to day events...bus ride to Muriel and Leland's school; walks through town; visits to the mercados.

I continue to take a lot of photos. I'll try to figure out how to post a few (undoubtedly I'll have to enlist Thom's help). I know Thom has posted some already of Hierve el Agua, etc. I'd like to post a few from some series that I'm having a good time with--bus altars, wall maps.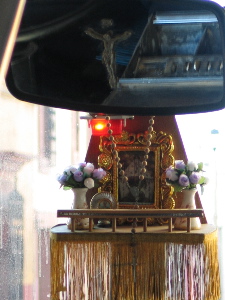 Almost every bus has some sort of religious altar in the front, ranging from minimal (a sticker of christ on the rearview mirror, or over the top area) to the extravagant (figurines surrounded by plastic flowers, glowing lights, curtains, strobe lights, and on). There are often interesting juxtapositions of imagery to the altars--a daffy duck doll, tweety bird stickers, futbol flags.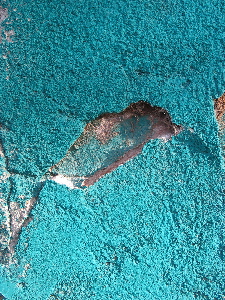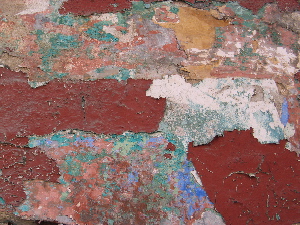 The "wall maps" are of crumbling plaster/adobe walls that have shapes that resemble maps--though I am now also delving into the patinas and shapes left by many layers of paint, and many years under the blazing mexican sun.

Things are beginning to get revved up for christmas around here--the usual cheezy decor: trees, santas, lights. We've also spotted some great over the top stuff: jesus with rings of lights flashing around him; mary with the same. Last night there were fireworks/firecrackers going off like crazy. Our friend Pilar who was over for dinner said they were getting ready for the saint's day recognizing the virgin of guadalupe, which isn't for over a week... Things should be at a full fever pitch by next week, not to mention by the time the 25th rolls around.

Muriel and Alta were out at our favorite cafe (Nuevo Mundo), and Muriel was speaking such perfect spanish that Alta was asked if she also spoke english. Yeah, baby! Leland is not as far along as Muriel, but is doing great too. Our wish for having bilingual children is coming to fruition before our eyes. Now, if we can get them into the spanish immersion program in Berkeley, they'll be set.

The constantly sunny warm days are such a delicious contrast to the last 6 winters we endured in Ithaca. It is our weather pallete cleanser. The amount of light is astonishing--bright and intense beyond belief.

Okay, I've been lounging in bed all morning--reading the NYT online, drinking coffee, visiting with Leland and his toys, writing this blog entry--and now it's time to get up, stretch my bones, and go on about the day.